August 10, 2020
Rallyhood Named Top Collaboration Solutions Provider 2020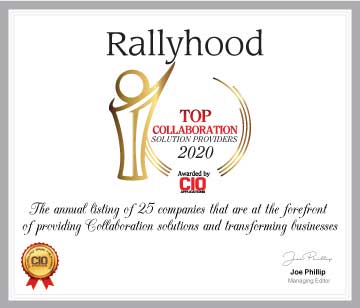 (Austin, TX – July 30, 2020): We are excited to announce Rallyhood was named one of the Top Collaboration Solution Providers 2020 by CIO Applications as part of their annual listing of 25 companies that are at the forefront of providing Collaboration solutions and transforming businesses. The companies chosen for this annual award are focused on offering the most innovative and reliable solutions to customers around the world.
Rallyhood is a community collaboration platform for nonprofits, member organizations, and associations, looking to engage and empower members to work together to support the mission. The company's solution eliminates the inefficiencies of fragmented tools, to streamline communication, increase productivity, and drive meaningful member engagement without expensive IT, Design or Dev resources. Unlike traditional community software, Rallyhood aggregates customers' ecosystem of groups onto a single platform, giving members user-friendly tools to self-organize, share, and manage events, in an ad-free environment, while also delivering unprecedented visibility and insights to member managers.
Rallyhood's team has been responding quickly to customers' needs in light of recent societal realities to enhance its best-in-class environment with innovative solutions that are intuitive and turnkey for users. Recently, Rallyhood added video conferencing capabilities via Zoom to give users' a seamless way to engage their members before, during and after virtual events. In the near future, Rallyhood is planning to expand their enterprise tools, with features like Chat, to further improve workflow and will be expanding integrations with other apps to increase productivity. "Our philosophy has been that when a group is well organized, and information is easy to find, everyone is more likely to stay engaged and active around the mission, which creates a better-shared experience—everyone wins", stated founder, Patti Rogers.
Read the full article here